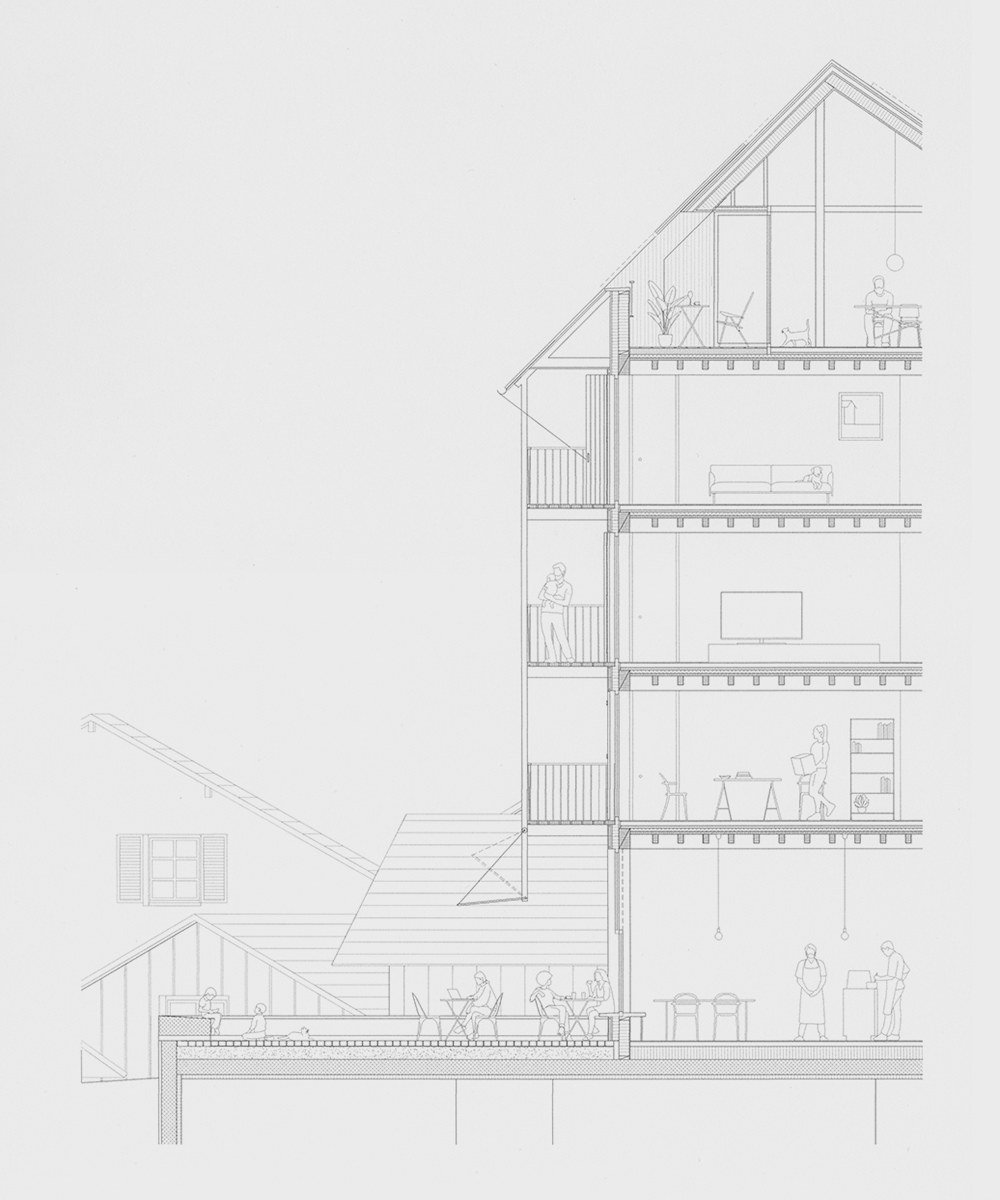 Haus mit 11 Wohnungen Chileweg
Weisslingen, Switzerland
4th prize, 2022

The rural municipality of Weisslingen is characterized by a very fine-grained, loose development, surrounded by an impressive landscape. The strong topography plays a strong role in the character of the village and is particularly marked by the Tösstal towards the north and the Kempttal towards the south.



Sketch


The new multi-generational residential building with common rooms for the villagers is located within sight of the listed church, its neighbouring parish, and the larger building volumes of the local school complex. The new building fits into the loosely existing development on Lendigerstrasse and follows the expression of the village. Through its placement, volume, and proportion, the proposed building forms a careful addition to the village and to the existing parish hall on the same lot.

The shape of the building appears simple, yet is characterised by an expressive gable, referring to existing elements of the surrounding farmhouses. The small projections and the addition in the plinth form an analogy to the local architectural vocabulary, drawing inspiration from the characteristic bay windows and other small extensions, such as the stables and sheds.





Sketch


Together with the church, the parish hall, and the school building, the proposal forms a harmonious addition to the existing ensemble. The project contributes to the existing network of small squares and paths in Weisslingen and adapts to the character of the place. The various existing outdoor spaces such as the viewing point, the long terrace of the church, the forecourt of the administration building, and the garden of the parish hall are connected and will be extended with a new terrace, a seating place and a walking garden.





Sketch


The new building provides eleven apartments of different sizes, including two spacious apartments on the top floor. The flats have a double orientation: on the west side, the living room give onto a long balcony with a view of the Zurich Oberland, where inhabitants can enjoy the evening sun on warm summer days.





Facade detail


The brightly lit stairwell and the adjoining communal loggias are placed along the east façade and form the meeting place for all residents. The kitchens of the flanking apartments also give onto the shared loggia, allowing a precise transition from collective to more private spaces.


Location: Weisslingen, Switzerland
Year: 2022
Type: housing
Client: Reformierte Kirche Weisslingen
Collaboration: SKALA - Landschaft, Stadt, Raum