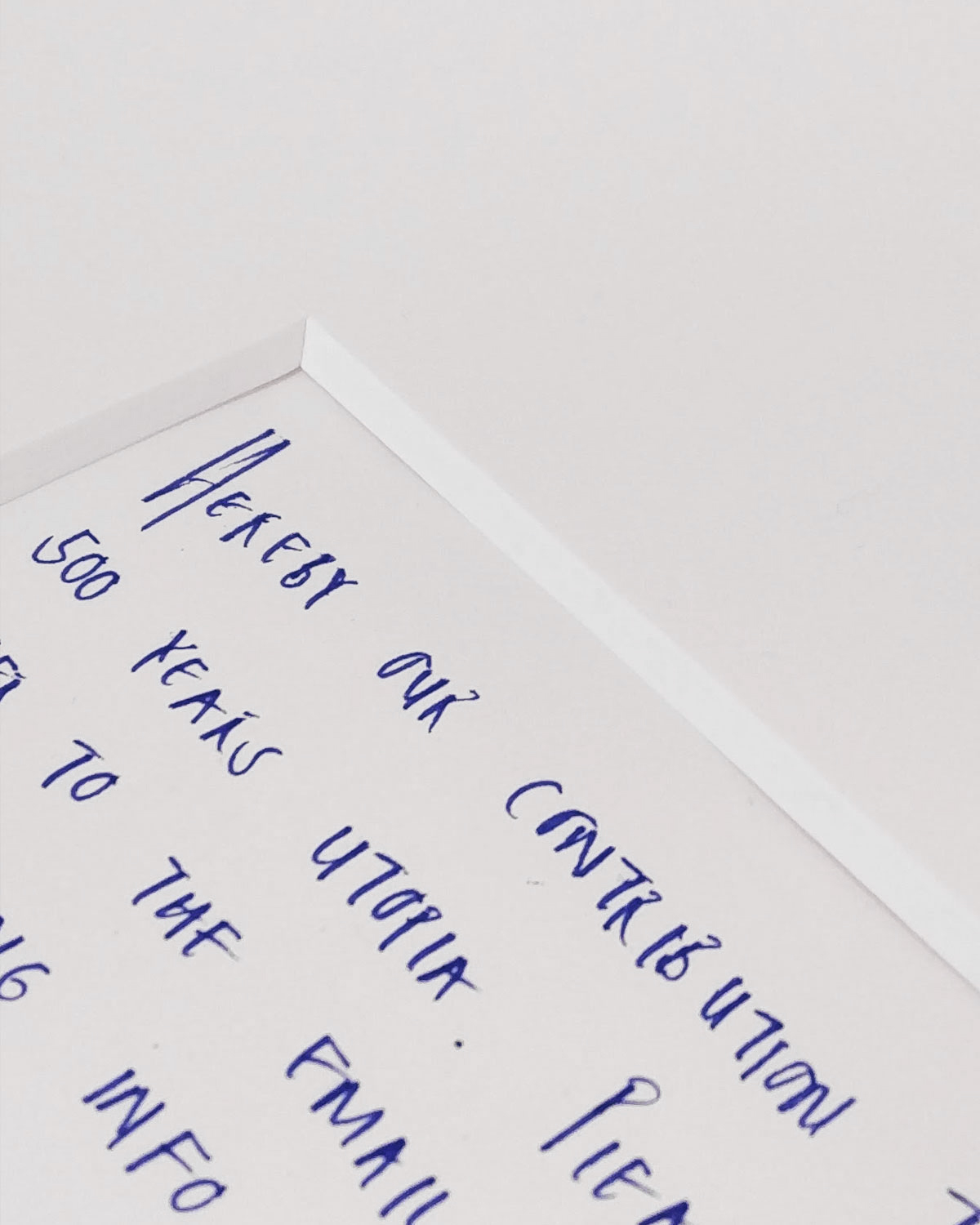 Oops,utopia
Museum M, Leuven
2016
To mark the 500 years existence of the book Utopia by Thomas More, five teams of leading Belgian architects and artists contributed to the exhibition EUtopia at Museum M in Leuven, Belgium. Camiel Van Noten collaborated with artist Wouter Van der Hallen and researcher Maxime Peeters. The other invited practices were Office Kersten Geers David Van Severen, JDS Architects, noAarchitecten, and LAb[au].


Thomas More, Utopia, 1516

'However, there are many things in the commonwealth of Utopia that I rather wish, than hope, to see followed in our governments.'

Thomas More concludes his book with this sentence. He incites readers to take the representation of the ideal society as an instigation to improve their own world. The installation entitled Oops, utopia revolves around contemporary initiatives and projects that carry 'utopian potential'. As a tribute to the 500th anniversary of the book Utopia, this installation celebrates moments of collectivity that take place around us today.



"England is not a free people, till the poor that have no land,
have a free allowance to dig and labour the commons…"
Gerrard Winstanley, 1649

Oops, utopia is a direct response to passages from the book Utopia that particularly appeal to us. The projects and initiatives shown are echoes of the spatial types of collectiveness described by Thomas More: the non-denominational chapel where different religions come together, the farm as a productive space for compulsory contribution to shared prosperity, the dining room for the neighbourhood where people gather for a common meal and the shared garden as a canvas for collective identity formation.


Francis Cape
We sit together: utopian benches, 2013

Where on the island of Utopia collectiveness originates from the compulsive, almost totalitarian, regime of Utopus, collectiveness in EUtopia is growing from the bottom up through locally organized initiatives and open source technologies.


A member of Falling Fruit
harvesting fruit from a public tree.


Despite their often large-scale ambitions, these current European utopias manifest themselves as marginal phenomena in the borders of society and in urban residual spaces. Thanks to their concrete approach, utopia takes precedence over policy and regulation and collectiveness becomes a driver for emancipation and social evolution.

Location: Museum M, Leuven, Belgium
Year: 2016
Type: Installation
Client: Stad en Architectuur Leuven and Museum M
Curators: Joeri De Bruyn en Ward Verbakel
Scenography: plusoffice architects
Collaboration: M. Peeters, W. Van der Hallen